CDPQ, APG and ADIA Will Invest in Indonesia's Toll Roads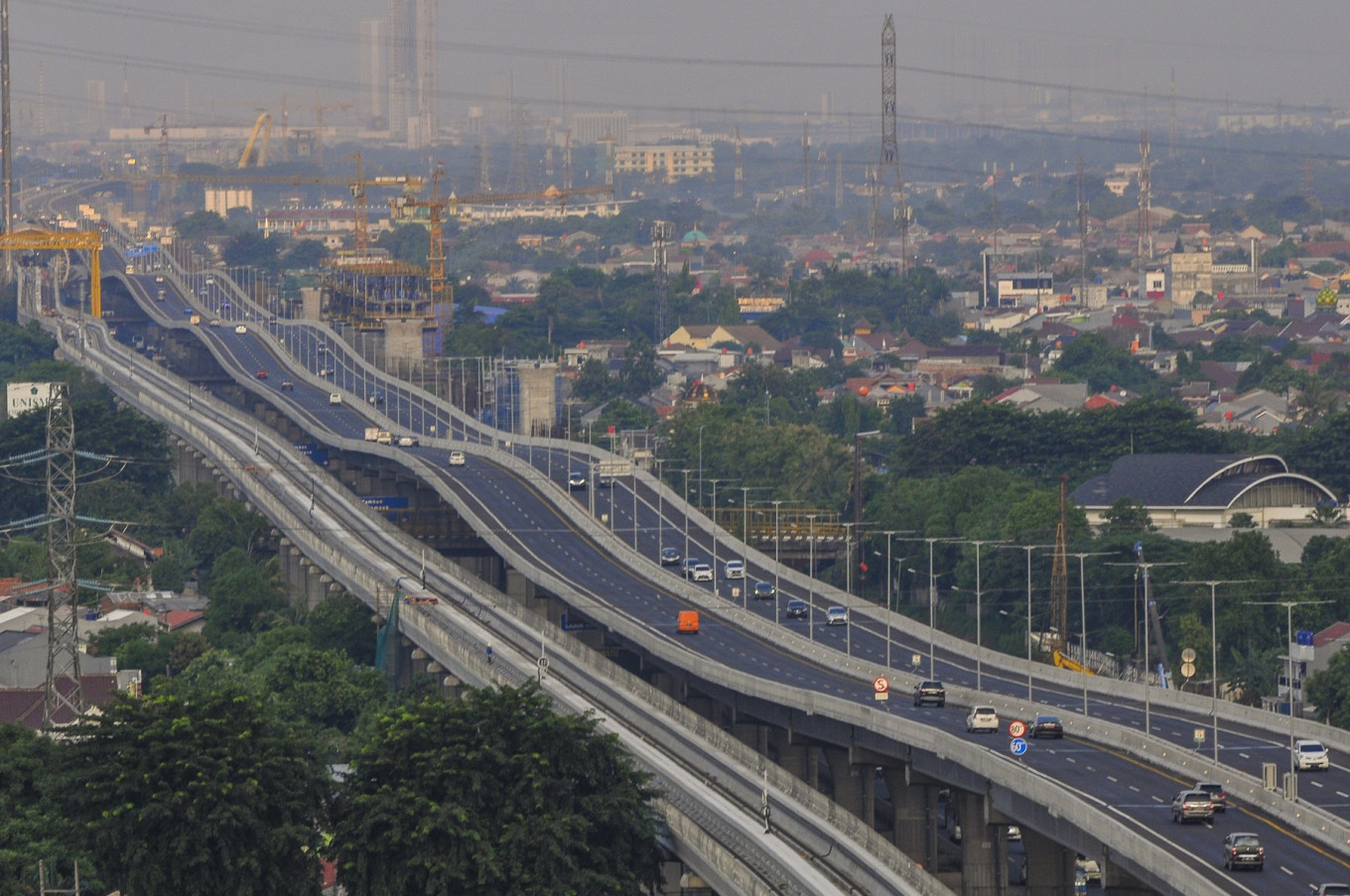 INA, CDPQ, APG, and ADIA recently signed a memorandum of understanding to establish Indonesia's first infrastructure investment platform:
Indonesia Investment Authority (INA), Caisse de dépôt et placement du Québec (CDPQ), APG Asset Management (APG), and a wholly owned subsidiary of the Abu Dhabi Investment Authority (ADIA) today signed a Memorandum of Understanding (MOU) to establish Indonesia's first infrastructure-focused investment platform and INA's first investment vehicle since its establishment.

Through this MOU, INA plans to explore opportunities for joint investments in partnership with CDPQ, APG and ADIA in Indonesian toll-road assets. The Investment Platform would be the consortium members' primary vehicle for toll road investments in Indonesia. Over the next six months, the consortium has agreed to evaluate a set of initial toll road investment opportunities that would form the operating base of the Investment Platform. Once established, the Investment Platform will continuously look for investment opportunities in the toll road sector to add to its portfolio over time. Subject to availability of commercial assets, the Investment Platform is envisioned to have an investment capacity of up to approximately IDR 54 trillion or USD 3.75 billion.

INA together with three globally reputable investment institutions – CDPQ, APG, and ADIA – intends on generating optimal returns to investors while bringing economic benefits to Indonesia through alternative way of financing with the aim to further improve the toll road ecosystem. This is in line with INA's vision of bringing economic benefit and job creation to Indonesia.

INA has been entrusted with IDR 15 trillion (approximately USD 1 billion) to be followed by an additional injection of IDR 60 trillion (approximately USD 4 billions) in 2021. The creation of INA's first Investment Platform has been made possible by the strong support from Government of Indonesia that paved the way for the creation and promotion of INA to leading global investors.

DR. Ridha D. M. Wirakusumah, Chief Executive Officer of INA, states: "We are truly delighted to be able to work with leading investors from around the world for our first ever Investment Platform. This demonstrates the confidence that global investors have in the Indonesian economic potentials even in this challenging economic environment. We believe this is a positive start for more collaborations between us and other investors in multiple sectors in Indonesia."

"On behalf of INA, I would like to extend our most sincere gratitude to the consortium members – CDPQ, APG, and ADIA – who join hands with INA in our maiden investment platform, to the ministries for their strong support, and to the relevant State-Owned Enterprises for their cooperation", DR. Wirakusumah added.

Emmanuel Jaclot, Executive Vice-President and Head of Infrastructure at CDPQ, said: "For CDPQ, Indonesia stands out as an attractive place to invest in, especially in the infrastructure sector. This MOU is an opportunity to jointly build a portfolio of critical road assets in one of the fastest growing economies in the world, and would allow us to combine INA's in-depth knowledge of the market and local networks with CDPQ, APG and ADIA's international infrastructure expertise."

Hans-Martin Aerts, Head of Infrastructure at APG Asset Management Asia, said: "We are pleased to partner with INA for its inaugural investment platform which will support further infrastructure investment in Indonesia. APG, as a long-term sustainable investor for its pension fund clients such as ABP, sees long-term collaborative relationships as the foundation of success in the execution of its investment strategy. We welcome the opportunity to work with CDPQ and ADIA on this initiative and to deliver substantial benefit to the investment platform through the application of best practices in operational performance and corporate governance."

Khadem Alremeithi, Executive Director of the Real Estate & Infrastructure Department at ADIA, said: "Indonesia is an increasingly attractive market for international investors, with a growing, dynamic economy backed by positive demographic trends. Over a number of months, we have worked closely with the INA to develop a better understanding of each other's objectives and we are pleased that those discussions have led to ADIA's involvement in INA's first investment platform alongside other reputed, long-term investors."
Any time you see a consortium made up of CDPQ, APG and ADIA investing in Indonesia's toll roads, you know it's a serious platform in one of the fastest growing economies in the world.
The Indonesia Investment Authority (INA) is spearheading Indonesia's first infrastructure-focused investment platform and this is INA's first investment vehicle since its establishment last year.
It couldn't have picked better long-term, reputable global investors to invest alongside it in its first platform.
A little background for people wondering why these investors are focusing on Indonesia's toll roads.
Back in January, Norman Harsono of The Jakarta Post reported that 258 km of toll roads were built in Indonesia in 2020, short of the government's target:

Indonesia added 258 kilometers of toll roads in 2020, short of the government's target, as the country strove to continue infrastructure development in the middle of the COVID-19 outbreak, Indonesia Toll Road Authority (BPJT) announced.

BPJT data published on Friday show that, with the latest addition, the country's toll roads at the end of 2020 stretched a combined 2,346 km, which compares to 2,088 km in December 2019.

The longest toll road operating in 2020 was the 131.69-km-long Pekanbaru–Dumai road in Riau. Most of the new roads are in Java and Sumatra, the country's two most populated islands, except for the 26.35-km-long Manado–Danowudu section of the Manado-Bitung toll road in Sulawesi.

"The tendency abroad is that toll roads support freight vehicles. These enable better, faster services than non-toll roads," said BPJT head Danang Parikesit, explaining the target market for the roads, at a virtual press conference on Friday evening.

The realized expansion is, however, lower than government expectations for 2020. The target for new toll roads to enter service last year was 314 km, as announced by the Public Works and Housing (PUPR) Ministry's roadworks director general, Hedy Rahadian, in October last year.

The government has long made efforts to push down the stubbornly high logistics costs in the country and reduce price disparities among the country's many islands through infrastructure development. The country's logistic costs stand at 23.5 percent of the country's GDP, Finance Minister Sri Mulyani Indrawati said in September.

The BPJT explained in its presentation on Friday that it aims to expand Indonesia's toll road network to 4,761 km by 2024. BPJT data also shows that accumulated toll road investment as of 2020 has grown by a modest 5.5 percent year-on-year (yoy) to Rp 729.54 trillion (US$51.38 billion) from the 2019 figure of Rp 691.43 trillion. Domestic banks, both private and state-owned ones, led the new investments, while there was no foreign direct investment (FDI) in toll road development last year.

"Because of the uncertainty with COVID-19, very little FDI entered Indonesia," said Danang.

This is amid the government's increasing reliance on the private sector to take part in developing, financing and managing the country's infrastructure projects under the National Medium-Term Development Plan (RPJMN) to ease the strain on the state budget. The state budget is expected to only cover some Rp 623 trillion, or around 30 percent of the needed funds to realize all the infrastructure projects, the ministry estimates.

In December, the ministry stated that it would offer eight toll road segments and one bridge worth a total of Rp 117.3 trillion to investors in this year's first quarter through the public-private partnership (PPP) scheme.

The toll roads and bridge add up to 380.8 km in length. One of those projects is the 32.4 km Semanan-Balaraja toll road connecting Jakarta and Tangerang, as well as a 37 km access road connecting the Cikopo-Palimanan toll road in West Java with the Japan-backed Patimban Port in Subang.

The BPJT expects to increase the accumulated toll road investments to Rp 887.41 trillion this year from the 2020 figure, including an additional Rp 10.1 trillion in FDI, to finance the development.

Center of Reform on Economics (Core) economist Muhammad Faisal said the saving grace for toll road investments in 2020 and in 2021 was government spending that, unlike the private sector, was expanded as Indonesia pours money into recovery programs.

The government and House of Representatives have agreed to lift Indonesia's budget deficit cap – normally 3 percent of GDP – until 2023 to help finance such programs.

"The pressure on private investment was bigger because both domestic and foreign businesses were affected by a contracting business climate and restrictions amid the pandemic," he said.

Government spending nevertheless faced restrictions in early 2020 as the Finance Ministry shifted ministerial budgets to COVID-19 relief schemes, he noted.

The government has earmarked Rp 149.81 trillion for the PUPR in the 2021 state budget, a significant increase from around Rp 87.61 trillion last year.

Faisal said that, this year, highway investment had "positive room to move" thanks to the higher deficit cap and the expectations of positive economic growth in 2021.

The government has predicted that Southeast Asia's largest economy will grow between 4.4 and 6.1 percent this year, largely driven by an expected recovery in consumer spending after vaccines become widely available, rising commodity prices and monetary and fiscal stimulus packages.
Clearly Indonesia is very serious about investing in its infrastructure and while some of the public finances were diverted to address the pandemic, the government remains committed to fulfilling its target in building out its toll roads and will rely on public-private partnerships to attain its target.
CDPQ, APG and ADIA don't just bring big funds, they also bring their experience investing in toll roads and other infrastructure assets as well as their wide networks, all of which will prove useful to the INA as it builds out this and future platforms.
This new investment platform has a capacity of approximately USD $3.75 billion and I wouldn't be surprised to see this consortium investing in future INA sponsored platforms.
From reading the press release, it looks like the Abu Dhabi Investment Authority (ADIA) laid the groundwork, working with the INA over months to get a better understanding of each other's objectives.
For CDPQ and APG, having a lead investor like ADIA on this deal isn't just critical, it's paramount.
The competition for infrastructure assets in Southeast Asia is heating up, you need to have the right partners on these deals in case something goes wrong.
In other related CDPQ news, I note it and FFL Partners have completed their acquisition of New Look Vision Group. You can read the press release here.
Also, since acquiring a 30% interest in US company Vertical Bridge in April 2019, CDPQ has supported the growth ambitions of this wireless infrastructure industry leader, a strategic choice that has benefited millions of Americans who have been working from home this past year.
You can read that press release here but I note this:
"At the time, we were interested in telecommunications and — more specifically — telecommunication towers, as we were aiming to further diversify our portfolio," said Eve Bernèche, Senior Director, Infrastructure at CDPQ. "We were looking for the right opportunity. When the chance to invest in Vertical Bridge arose, it was a rare opportunity to gain exposure to the largest private telecommunication tower operator in the United States, an exceptionally high-quality company that is well managed and respected in the market, particularly by US telecom giants such as AT&T, T Mobile, Verizon and Dish. We had also built a collaborative relationship with Digital Bridge (now Digital Colony), Vertical Bridge's founding shareholder and felt confident we would be a good fit for the management team in place."

Founded in 2014 and based in Boca Raton, Florida, Vertical Bridge is the largest private owner and manager of communication infrastructure in the United States, an industry dominated by three publicly listed giants. The company currently has more than 307,000 owned and master leased sites across all 50 US states, including wireless and broadcast towers, rooftops, land parcels, and billboards.

In 2020 alone, Vertical Bridge added over 1,000 towers to its portfolio of owned sites.
Go back to read my recent comment on how American Tower Corporations (ATC) struck a deal with CDPQ for the sale of a 30% stake in their European business, ATC Europe.
Kudos to Olivier Renault, Managing Director, Infrastructure, North America, and Eve Bernèche, Senior Director, Infrastructure at CDPQ, and their team for working hard to acquire these tower operators, well done!
A lot of you reading my comments are probably wondering what all the fuss is about investing in Indonesia's toll roads and American and European tower operators, so let me give it to you straight: "Bonds and stocks are ridiculously overvalued and large global investors like CDPQ are right to diversify their portfolio into high-quality infrastructure assets."
Why not put all their funds in meme stocks like GameStop or AMC Entertainment which soared this week? For the same reason you don't walk into a casino and bet your life savings at the roulette table.
There's a bit of communication problem at Canada's large pensions diversifying across public and private markets. I had a discussion about this with Mihail Garchev, the former Head of Total Fund Management at BCI, and we both agreed it's not the fault of the communications teams per se, it's that the narrative isn't being explained properly, leaving these pensions vulnerable to public criticism.
I asked Mihail to put some of his thoughts on paper and if he does, I will gladly share them with you.
Below, the World Bank Indonesia Country Partnership Framework 2021-2025 aims to support Indonesia's medium-term development goals and help the country build back better from the COVID-19 crisis. Over the next five years, the World Bank will continue addressing climate change, transition to cleaner energy, and help realize the potential of Indonesia's natural assets.
I also embedded a clip of someone driving off exit 21 of the Jakarta Tangerang Toll Road (Karawaci 3 toll gate). Have no clue of what he's saying but it looks like a fun ride! :)